Southend United
Formed 1906
Founder member of Division Three (South) 1920. Relegated to the National League 2021.
Kit History
1906-1910 a
1910-1911 v
1911-1914 w
1914-1915 p
1919-1920 p
1920-1922 a
1922-1923 t
1924-1926 p q u
1930-1931 p
1936-1954 a b
1954-1955 a
1955-1956 B
1957-1959 a z
1959-1960 b
1960-1961 b
1961-1962 a b l n x A
1962-Jan 1963 a x A
March-April 1963 x A
1964-1965 y A
August 1965 a n A
Possibly later
Sept? 65-1968 a n z A
1970-1973 c l
1973-1975 a l
Admiral
1975-1976 l
Admiral
1976-1978 a l
Bukta
1978-1980 a l
1980-1981 m
1981-1982 a
1982-1983 k
1983-1984 a
1984-1985 b s
Elite
1985-1986 k r
1986-1987 f
1987-1988 k
Spall
1988-1990 b h
Spall
1990-1991 a h
Beaver
1991-1992 o
Beaver
1992-1994 d
Beaver
1994-1995 d
Beaver
1995-1996 d
Olympic Sport
1996-1998 d
Olympic Sport
1998-1999 d g
Rossco
1999-2000 b
Pier Sports
2000-2001 b
Hi-Tec
2001-2002 d
Sport House
2002-2003 d
Nike
2003-2004 d
Nike
2004-2006 e
Nike
2006-2007 e
Nike
2007-2008 e j
Nike
2008-2009 e
Nike
2009-2010 e j
Nike
2010-2011 e
Nike
2011-2012 e
Nike
2012-2013 e
Nike
2013-2014 e
Nike
2014-2015 e
Nike
2015-2016 e
Nike
2016-2017 e
Nike
August 2017 e
Nike
Sept 2017-2018 e
Nike
2018-2019 e
Nike
2019-2020 e
Hummel
2020-2021 e
Macron
2021-2022 e
Macron
2022-2023 e
Background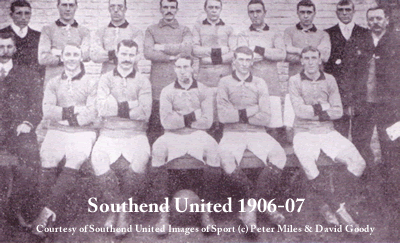 Football had been played in Southend for some time before the modern club was founded. Indeed a team known as Southend United is recorded as early as 1898-97 but has no connection with the present club. It was not until April 1906 that the landlord of the Blue Boar Hotel, Oliver Trigg, met with fellow enthusiasts to form a new professional club. Originally called Prittlewell United, the name was changed to Southend United a month later.
There was an immediate impact on Southend Athletic, an amateur side that was previously the town's leading team. Their best players and the majority of their supporters defected to the new club and at the AGM in May 1907 Athletic was disbanded. The remaining players moved to United "to assist the second eleven" (Southend Star 9 May 1907).
Southend United were immediately admitted to the Second Division of the Southern League, winning promotion to the First Division in 1908. In August 1910 the local press reported that the club had decided to change their colours to red and gold hoops to improve their fortunes. They became known as "The Gypsies" but rather than improving, the team was relegated at the end of the season and the new colours were quietly dropped.
During the Great War United's ground at Roots Hall Fields was turned into allotments and United moved to a new home next door to the Kursaal Pleasure Park in 1919. Photographs show the stadium dwarfed by a giant water-chute, one of the principle attractions of the seaside resort at that time.
In 1920, Southend became founder members of Division Three when the old Southern League Division One was incorporated into the Football League. They remained at this level until 1958 when the regional divisions
were scrapped and "The Shrimpers" were placed in Division Three.
The club left the Kursaal in 1934 to move to a greyhound stadium at Grainger Road before returning to their Roots Hall in 1955. The ground was rebuilt from scratch over two years with funds raised entirely by the Supporters' Club. Over the years the club became associated with mud - whether because of the state of their pitch or the endless vistas of the Thames estuary at low-tide is unclear.
Aside from 1910-11, Southend always wore bluebut between 1959 and 1961 white shirts
were adopted. These included a crest in 1960-61 that appears to have been based on the central badge of the town's coat of arms. The full coat of arms was worn for a couple of seasons in the middle of the decade when navy and white became the team colours.
In 1968 the coat of arms were replaced by a crest designed specifically for the club. Part way through the season they were instructed to change their shirts because the navy tops were too similar to the black shirts worn by referees: after the team played in shirts borrowed from various clubs, the supporters chose West Brom's stripes
which were adopted for the rest of the 1968-69 season and the one that followed. The crest worn on these tops was rendered in four colours.
In 1968 United were relegated to the Fourth Division and there they stayed until 1972 when the team began a yo-yo career that brought four promotions and as many relegations over the next 18 years.
A horizontal monogram was adopted in 1970 to be followed by one of the more oddball badges that appeared in the Seventies. This was a shrimp, originally embroidered in white against the plain blue shirts with no further embellishment. In its final season, however, the shrimp turned blue and was embroidered onto a white circular patch with the club initials.
Red trim was introduced in 1975 and remained in favour for the next decade. The shrimp was replaced by a more conventional diagonal script typical of the period.
From 1980 the team sported a very new look with white shirts set off by blue raglan sleeves and worn with plain blue shorts and socks. Another
novel badge was adopted, which looked like rather third-rate and which, oddly, was worn on the right-hand side of the shirt. This was replaced after two seasons by an altogether more traditional design that remained in favour for the next 18 seasons.
In 1985, yellow replaced white in order to
incorporate the colours of their new shirt sponsor. In 1990, having been relegated the season before, United were promoted in third place, having led the Fourth Division table for most of the campaign. The following season, against all expectations, United were promoted again in 1991. For six splendid seasons, the Shrimpers played in Division Two/Endsleigh League Division One, even sampling European football with a tie against Fiorentina in the Anglo-Italian Cup.
In 1997 the bubble burst and Southend were relegated to Nationwide Division Two and then immediately to the Third Division, the lowest tier of the Football League.
The turn of the millennium brought a new crest. Broadly similar to its predecessor, a football replaced the anchor in the top quarter while the shrimp made a welcome return on the lower quarter.
The navy and white theme was revived in 2001 when regulations were more liberal and income from the sale of replica strips drove clubs to redesign their kits on a regular basis. A dramatic revival began with promotion in 2005 followed by the League One title in 2006, taking the Shrimpers back to the second tier, or the Championship as it had become known.
In November 2009 Southend avoided being placed into administration after agreeing to pay £2,135,000 in unpaid taxes to HM Revenue & Customs. The club had originally faced a winding up petition over a tax bill of £690,000 but HMRC applied to have to club put into administration as the debt spiraled. The dispute dragged on with a transfer embargo imposed by the Football League until a final settlement was reached with HMRC on 2 August 2010.
After his niece suffered a catastrophic allergic reaction to nuts in 2014, the club chairman Ron Martin replaced his company's logo on the team shirts in September 2017 with the name of the trust set up in her name. The following season, Martin decided to continue the charitable theme by supporting Prostate Cancer UK. Their manager at the time, Chris Powell was a long standing ambassador for the charity. The 2019-20 shirt was without sponsorship after the club signed up to Paddy Power's "Save Our Shirt" promotion.
Financial problems led to seven senior players going unpaid in December 2019 and a month later they were faced with a winding-up-order. This was dismissed after the chairman, Ron Martin, paid the players but in February wages were again late and the EFL imposed a transfer embargo over unpaid tax. With the team rooted to the foot of League One relegation was a certaintly so a suspended three-point penalty imposed for these and other offences made little difference. Several staff and players were placed on the government's furlough scheme in April after football was suspended when the League One and Two clubs voted to end the season early, the club announced that the entire playing staff were to be furloughed. The players refused to accept this and shortly afterwards the manager, Sol Campbell and three assistants left the club "by mutual consent."
In August 2020 Mark Moseley was appointed as manager and two months later the club settled their debt with HMRC (almost £500,000) and as a result avoided a winding-up order. In April 2021 Moseley was sacked, his team having won just eight games out of 45. Former manager Phil Brown returned but was unable to stave off relegation, ending 101 years in the Football League.
You are welcome to
Contact Me
with corrections and additions.
Sources
(a) Southend United FC (Images of Sport: Peter Miles & David Goody)
(b) Southend United Database - independent site run by Robin Michel with an amusing and original section on club colours
(c) Football Cards
(d) empics
(f) Football Focus
(g) "Rob P"
(h) David King
(i) Greger Lindberg
(k) The Centenary History of Southend United (David Goody - Shrimper Publishing Limited Aug 2007) provided by Paul Smith
(l) Alick Milne
(m) Chris Worrall
(n) Jack Bond
(o) James Welham
(p) Keith Ellis
(q) Simon Monks
(s) Timothy Laken
(t) Athletic News 12 February 1923 submitted by Richard Essen
(u) Lancashire Evening Post 5 July 1924
(v) Southend Standard (11 August 1910) Athletic News (22 August 1910) submitted by Alick Milne
(w) Southend Standard (January 1912) submitted by Alick Milne
(x) Peter Stevenson
(A) Jack Bond
(B) Tony Sealey
Crests are the property of Southend United FC.