Ayr Parkhouse
Formed 1886. Merged with Ayr in 1910 to form Ayr United
Elected to Scottish Division Two 1903. Failed re-election 1904.
Re-elected to Scottish Division Two 1906.
Kit History
1890-1892 a
1892-1894 a
1894-1898 a b
1899-1910 a c
Background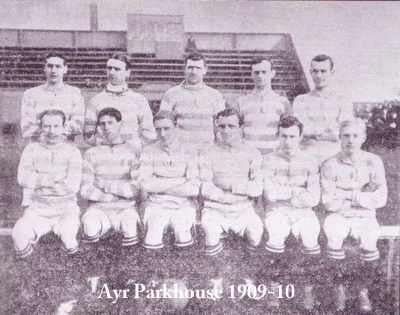 Ayr Parkhouse were formed in 1886 taking its name from Parkhouse Farm where the players trained. After becoming a senior side in 1889, a fierce rivalry was sparked when an official from Ayr FC tried to poach Parkhouse's best players. The club joined the Ayrshire League in 1891 but, unlike their rivals, they remained strictly amateur. In 1893 they joined Ayr FC in the Ayrshire Combination League and won the Ayrshire Charity Cup, going on to retain the trophy a remarkable five times in succession.
By the turn of the century Parkhouse's initial opposition to the introduction of a national league had waned. Their fellow amateurs, Queen's Park had been admitted to the Scottish Football League's First Division and in 1901 the Parkhouse directors applied to join Scottish Division Two but were turned down. The following season, after winning the Ayrshire Cup for the first time and finishing runners-up in the Scottish Amateur League, Ayr Parkhouse achieved their ambition, beating St Johnstone by a single vote at the SFL's annual meeting.
Meanwhile Parkhouse were seeking re-election to the Second Division after finishing last in their first season in the Scottish League. The directors of Ayr FC campaigned vigorously against Parkhouse's application for re-election and the club duly lost their place. Only two seasons later, however, Parkhouse turned professional and were elected back into the Second Division where they resumed their rivalry with Ayr FC.
It was by now generally accepted that the town of Ayr could not support two senior sides and there was certainly no prospect of First Division football coming to the town unless the two joined forces. In 1910, Parkhouse were again facing re-election after finishing last. After protracted negotiations, a merger was finally agreed and on 9 April 1910, Ayr beat Parkhouse 1-0 in the Ayrshire Cup Final, the last time the two clubs played as independent entities. The following season Ayr United made their debut while Dundee Hibernian filled the vacancy.
See also Ayr, Ayr United.
You are welcome to
Contact Me
with corrections and additions.
Sources
(a) Alick Milne
(c) Ayr United FC - Images of Sport (Duncan Carmichael 2002)