Kit History
1920-1934 b
1934-1945
1945-1946 b
1954-1955 b
1958-1959 b
1961-1962 b
1962-1964 b
1964-1965 b
1968-1969 b
1973-1974 b
Umbro
1974-1975 d
Umbro
1976-1977 d
Umbro
1977-1978 d
Litesome
1978-1979 d
Litesome
1979-1980 d
Adidas
1981-1982 e
Umbro
1983-1984 i
1984-1985 f
Umbro
1985-1986 d f j
Umbro
1986-1987 f
1987-1988 d
Umbro
1988-1989 d
Umbro
1990-1991 i
?
1992-1993 i
Asics
1993-1994 b
1994-1995 g
Sponsorship not confirmed
Pony
circa1995-1996 c f
Pony
1996-1997 c d f
Pony
1997-1998 g
Pony
1998-1999 g
Umbro
1999-2000 g
Umbro
2000-2002 b f h
Umbro
2002-2004 b f
Umbro
2004-2005 b f
Umbro
2005-2006 b f h
Umbro
2006-2007 a f
Umbro
2007-2008 a f
Puma
2008-2009 a
Puma
2009-2010 a
Puma
2010-2011 a
Puma
2011-2012 a
Fila
2012-2013 a
Fila
2013-2014 a
Fila
2014-2015 a
Carbrini
2015-2016 a
Carbrini
2016-2017 a
Macron
2017-2018 a
Macron
2018-2019 a
Macron
2019-2020 a
Macron
2020-2021 a
Joma
2021-2022 a
Joma
2022-2023 a
Background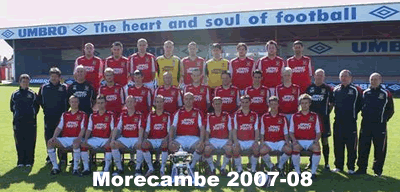 The Lancashire seaside town of Morecambe is more famous for its extensive views over the desolate sands of Morecambe Bay than it is for football. A number of attempts had been made to establish an association football club in the area but in the early part of the 20th century without success. In May 1920, Morecambe FC was formed and immediately admitted to the Lancashire Combination. A few years later, thanks to the generosity of their president, JB Christie, the club acquired a new home named after their patron, Christie Park.
Poor results in the Combination and the indifference of the local community meant that the club was in a
constant battle for survival. After the Second World War, "The Shrimps" gradually consolidated, appearing in the FA Cup third round in 1960 and in 1974, they won the FA Trophy at Wembley.
Despite home attendances which had dropped from an average of 2,000 to less than 200, the club persevered and was eventually rewarded with a place in the new Northern Premier League in 1968.
In 1995 Morecambe won promotion to the Conference. Here they were moderately successful until finishing in third place in 2006-07 to qualify for the play-offs.
In May 2007 thousands of "Sand Grown Uns" followed the club to the new Wembley Stadium to witness the Conference play-off final against Exeter City, a match they won 2-1 and with that, promotion to the Football League.
At the end of the 2009-10 season, in which they reached the play-offs, Morecambe quit Christie Park and moved into the brand new Globe Arena in July 2010. As is now customary on such occasions, a new crest was introduced to replace the municipal coat
of arms worn since 1988. The choice of a shrimp as the central feature was chosen to represent the team's traditional nickname.
Black and red stripes were revived in 2015-16 to celebrate the 20th anniversary of the Shrimps' promotion from the Conference. Five years later a gold and
dark red version of their crest was introduced to celebrate their centenary with the addition of two Lancashire roses. The alteration proved propitious. Morecambe finished the Covid affected 2020-21 season in fourth place and went on to beat Newport County in the play-off final with a penalty in extra-time. A new crest was introduced for their first ever season in League One.
You are welcome to
Contact Me
with corrections and additions.
Sources
(b) Shrimps Supporters - an excellent unofficial site with an extensive history section
(c) Alliance to Conference 1979-2004 - The First 25 Years (John Harman 2004)
(d) Ralph Pomeroy
(e) Greger Lindberg
(f) Mark Holland
(g) Mark Alton
(h) Keith Ellis
(i) Michael Gluck
(j) Neil Morris
Crests are the property of Morecambe FC.