Mansfield Town
Formed 1897
Elected to Division Three (South) 1932. Relegated to The National Conference 2008.
Promoted to League Two 2013.
Kit History
1897-circa 1900 a m
1902-1903 q
1905-1906 m
1906-1910 m q
1910-1911 a m q
1911-1916 a m
1919-1923 a i m q
1923-1926 m q
1926-1931 m q
1931-1932 q
1932-Oct 1934 j m q
Oct 1934-1935 m q
1935-1936 s
1936-1937 m q
1937-1938 m q
1938-1939 m q
1939-1940 q
1945-Dec 1947 m q
Jan 1948-1950 b m q
1950-1954 m q
1954-1955 b m q
1956-1957 q
1957-1958 m q
1958-1959 m q
1959-1960 m q
1960-1961 m q
1961-1963 m q
Warm weather kit
1965-1967 q
1967-1968 q
1970-1971 b d e m q
1971-1974 m q
1974-1975 q
Umbro
1975-1976 g q
Umbro
1977-1979 o q
Umbro
1979-1980 o
Umbro
1980-1983 k o q
Lowfields
1983-1984 k n q t
Lowfields
1984-1985 m p q t
Lowfields
1985-1986 m q t
5D Togs
1986-1987 f n q t
5D Togs
1987-1988 m q t
Scoreline
1988-1989 m q t
Scoreline
1989-1990 n q t
Ribero
1990-1991 c n q
Ribero
1991-1992 l n q
Ribero
1991-1992 alt m n
alternate kit
Hero
1992-1993 h m n q
Pelada
1993-1994 c q u
Activity
1994-1995 c q r
Stags
1995-1996 c q
Beaver
1996-1998 c q
Beaver
1997-1998 m q
Centenary kit
Russell Athletic
1998-1999 c q
Sponsor's logo added November 1999
Russell Athletic
1999-2000 c q
Own Brand
2000-2001 c n q t
Own brand
2001-2002 c q
Own brand
2002-2003 c n q
Own brand
2003-2004 c q
Garman
2004-2005 c q
Garman
2005-2006 c g q
Carlotti
2006-2007 k q
Carlotti
2007-2008 a
Canterbury
2008-2009 a
Canterbury
2009-2010 a
Errea
2010-2011 a
Errea
2011-2012 a
Errea
2012-2013 a
Surridge
2013-2014 a
Surridge
2014-2015 a
Surridge
2015-2017 a
Surridge
2017-2019 a
Surridge
2019-2021 a
Surridge
2021-2023 a
Background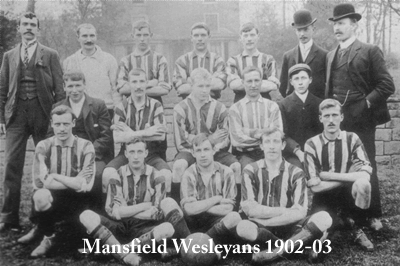 There are several versions of the origins of Mansfield Town. This account is drawn principally from the history section of the official club web site according to which, the club was originally connected to a local non-conformist chapel and named "Mansfield Wesleyans FC." Playing in chocolate and blue striped jerseys they played their first match on 4 September 1897, 2-2 draw with Sherwood Foresters FC. In 1902 the club joined the Mansfield & District Amateur League. In 1906 the league dropped "Amateur" from their title, a change that seemed to the chapel elders to signal a move towards professionalism. They forbade the football team to continue to call themselves "Wesleyans" and as a result the club became Mansfield Wesley and all ties with the chapels were severed.
In 1910 the committee members voted to change the club's name once again, this time to Mansfield Town. The objections of their rivals, Mansfield Mechanics, who were at the time the leading club in the area, were ignored and to go with the new name, a new strip of red and white was adopted. The following season the club became founder members of the Central Alliance League.
In 1913 the club was forced to move to a new ground when their original one was required to build an extension to the Great Central Railway line. With little time available they settled to return to open playing fields on Radcliffe Gate where they had played at the turn of the century. Nicknamed "The Prairie" there were no facilities whatsoever and the pitch frequently turned into a quagmire. In 1916 Mansfield Town closed down for the duration of the Great War.
When peace finally returned, Mansfield Mechanics were unable to afford the cost of taking out a new lease on their Field Mill ground (which had been allowed to lapse during the war). They offered to share with Mansfield Town help meet the cost, an opportunity that Town could hardly refuse given the appalling state of "The Prairie." In May 1919 they moved in and the reconstituted club adopted the amber and blue colours still worn today. Within two years the Mechanics had disappeared and Mansfield Town became the top club in the area.
After winning the Central Alliance championship, Town applied successfully to join the Midland Counties League in June 1921. Around 1924 the club acquired their nickname, "The Stags," which is thought to derive from the own's old coat of arms, which included this animal as a reference to Mansfield's proximity to Sherwood Forest. In 1926 their application to join the Football League was turned down so they joined the Midland Combination, a league made up of reserve teams from Football League clubs, presumably in order to develop their reputation at this level. Their cause was helped considerably by their 1927-28 FA Cup run, which saw them beat Wolves (then in Division Two) in the Third Round before losing to two late goals at Highbury against Arsenal.
Having applied without success to join Division Three (North) every years since 1923, the club changed tactics in 1931 and applied to join the southern section hoping to attract the support of the northern clubs.
It worked and they were finally accepted into the league at the expense of Newport County. At the end of the season, Town were transferred to the northern section. Because of their central location Mansfield are one of those clubs that moved between t
he two regional divisions when it was necessary to even up numbers.
There was little to cheer about in the ensuing seasons and immediately after the Second World War, they had to apply for re-election to Division Three (South). Throughout most of the Fifties, the team wore white shirts and black shorts. A crest, featuring a stag's head, made its first appearance in the 1954-55 season.
In 1961 Mansfield returned to their traditional amber and blue, incidentally reviving the stag's head crest after being relegated to the Fourth Division. They managed to regain
their place in Division Three in 1963.
The crest was altered to a white disc in 1965 with the stag's head picked out in blue: the disc became amber in 1968. This crest featured on
the all-blue outfit adopted in 1968 and on the unusual white shirts trimmed in blue and amber that followed.
The crests worn up to this point were all relatively simple affairs but in 1974 a rather more sophisticated design was introduced that featured Mansfield's main colours of amber and blue as well as white.
The 1970s started badly with relegation to the Fourth Division but championships in 1975 and 1977 took them all the way up to the Second Division. Unable to compete at this level and with only six wins before Easter, relegation was inevitable after their only season at this level. Worse was to follow and in
1980 the club was back in the Fourth Division.
The crest was simplified in 1980 but in 1984 the previous design was reintroduced but without the white detail while the blue and amber were reversed.
In 1986 Mansfield were promoted again and stayed in the third Division for five seasons before being relegated, promoted and
relegated again in successive seasons 1991 to 1993. In 1992 the club was acquired by Keith Haslam who, with his wife, became the sole shareholder. Relationships between Haslam and supporters became extremely strained over the years as questions about
personal loans to Haslam and his companies came to light during periods when the club was forced to borrow from the PFA to pay players' wages.
The 1994 version of the stag's head crest, with overlapping lettering, appeared in three different versions before it was replaced.
To mark their centenary season in 1997 Mansfield recreated a special kit based on that of the original Wesleyans in chocolate and light blue
and the club crest was given a complete overhaul.
The Stags managed promotion again in 2002 only to suffer the same fate of immediate relegation. Mansfield have long suffered from their proximity
to Nottingham Forest and Derby County. Success for this modest Nottinghamshire club is generally considered to be a matter of doing better than their arch-rivals, Chesterfield.
In 2008, having struggled all season, the Stags lost their Football League place and were relegated to the National Conference. Haslam finally sold the club to three wealthy supporters who sold the club in turn to John Radford in 2010. In December 2010, following a dispute over the rent, Keith Haslam, who had
retained title to the Field Mill stadium, locked the club out of Field Mill. After protracted negotiations, Radford finally succeeded in buying the stadium and returning ownership to the club in March 2012.
After five seasons in the Conference, Mansfield won the Conference title and returned to the Football League in 2013.
The 2021-23 strip featured a "retro" crest to mark the club's 125th year. In point of fact this was just the regular badge without its background shield.
You are welcome to
Contact Me
with corrections and additions.
Sources
(c) empics
(d) Football Cards
(e) Workington AFC - Images of Sport (Paul Eade 2003)
(f) Football Focus
(g) Classic Kits
(h) Premier Shirts
(i) Picture the Past
(j) The Football Encyclopaedia (Associated Sporting Press 1934) Information provided by Arthur Fergus
(l) Ralph Pomeroy
(m) Mansfield Town; The First 100 Years - The official history (Jack Retter & Paul Taylor 1997) provided by Mark Parker
(n) David King
(o) Alick Milne
(p) Christopher Worrall
(q) Mansfield Town FC - Images of Sport (Paul Taylor & Martin Shaw 2007)
(r) Matt Smith
(s) Keith Ellis
(t) Simon Freestone
(u) Mike Pollitt
(v) John Taylor
Crests are the property of Mansfield Town FC.