Hereford United
Formed 1924. Wound up 2014.
Elected to Division Four 1972. Relegated to the Conference 1997.
Promoted to League Two 2006. Relegated to the Conference 2012.
Kit History
1924 a
1937-1938 u
1946-1947 m
1947-1948 l
circa 1949 l
1950-1951 a
1951-1954
1954-1955 l
1955-1957
1957-1958 l
1958-1959 l
1960-1962 l m
circa 1962 m
1965-1969 d i
1969-1970 a
Barralan
1973-1975 a u
Umbro
1975-1977 a h
Admiral
1978-1980 a h k
Admiral
1980-1981 a j
Coffer Sports
1981-1982 h j r
Adidas
1982-1983 u
Adidas
1983-1984 a u
Unbranded
1984-1985 a u
Winning Ways
1985-1986 s t u
Winning Ways
1987-1988 a t
Admiral
1988-1989 p q
Scoreline
1989-1990 a g
Scoreline
1990-1991 a g
Matchwinner
1991-1993 a g p
Matchwinner
1993-Nov 1994 a f g
Pallini
Dec 1994-1996 a f n u
M&M Sports
1996-1998 a u
M&M Sports
1998-2000 a
M&M Sports
2000-2002 a
M&M Sports
2002-2004 a
Nike
2004-2006 b
Nike
2006-2008 b e
Nike
2008-2009 e
Admiral
2009-2010 b
Admiral
2010-2011 b
Admiral
2011-2012 b
Errea
2012-2014 b
Errea
2014-2015 b
Background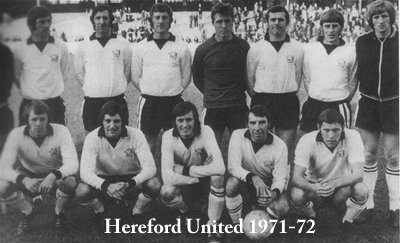 Hereford United came into existence when two local clubs, RAOC and St Martins FC merged in June 1924. The new club was admitted to the Birmingham Combination League and played its first competitive match two months later. After four seasons, United joined the Birmingham League and gradually became established as one of the leading sides. Because of the association with pedigree Herefordshire beef cattle, the club became known as "The Bulls." It is believed that the team originally played in all-white but by 1937-38 they were wearing black knickers. It is unclear when the change was made.
In 1939, United became a limited company and joined the Southern League only for their new career to be cut short after four matches due to the outbreak of war. When league competition resumed in 1945, Hereford finished as runners-up to Chelmsford City in rather controversial circumstances. Chelmsford had been awarded a number of points in lieu of matches that had not been played - Hereford's objections were overruled.
In 1950-51, The Bulls claimed the first of many Football League scalps in the FA Cup, beating Scunthorpe United 1-0. The famous Hereford Bull appeared on the team's shirts during this season, possibly for the first time.
In 1953, United beat Exeter City and in 1956, Aldershot were added to the list. Their giant-killing reputation was firmly established the following season when they hammered Queens Park Rangers (then in the third Division) 6-1 to set up a home tie with Sheffield Wednesday in the Third Round. Although they lost 0-3, the record attendance of 18,114 brought a welcome financial boost. In 1965-66 Third Division Millwall became the Bulls latest victims.
In 1966 the legendary "Gentle Giant," John Charles signed for the club at the age of 35. Charles scored 115 goals in 202 games and took over as player manager in 1967. Under Charles' inspirational leadership, Hereford became one of the strongest non-League sides in the country. In October 1971, Charles quit to concentrate on running his sport shop. His successor, Colin Addison would lead the club to its finest achievements.
After holding Newcastle to a 2-2 draw in the FA Cup Third Round, Hereford sensationally won the replay at Edgar Street 2-1 in extra time. It was the first time a First Division side had been knocked out by a non-league team since 1949. In the fourth round, Hereford took West Ham United to a replay before going down 1-3. Their reputation was now made and when the Football League met on June 2nd 1972, The Bulls were elected to the Fourth Division at the expense of Barrow.
The Leicester based Barralan provided the club with four sets of unbranded kit and a bag of footballs free of chargebetween 1972 and 1974 in return for the players modelling for the textile company's catalogue, a welcome windfal for a club that was always struggling financially
Promoted at the first attempt, United spent three seasons in Division Three before they won the championship and were promoted to the Second Division in 1976. This proved too much of a stretch and the club plunged back down to the Fourth Division in successive seasons. Worse was to come as they had to apply for re-election three times between 1980 and 1983. During these bleak times the players turned out in navy rather than black shorts. It may be that when the Admiral sportswear company went into
liquidation the Hereford bought up several sets of Tottenham kits in the bankruptcy sale. Indeed they were so hard up that when, in 1982, they bought a set of Adidas tops, they could not afford shorts and socks so unbranded and even old Coffer navy shorts appeared. The club continued to struggle in the lower reaches of the Fourth Division (which became the Third Division when the Football League was re-organised in 1992).
From 1988 the traditional crest was enhanced with the addition of the club's name. This was slightly modified in 1992. Subsequent versions varied in their colouring and the style of the text.
In 1996 United reached the play-offs but the following season, they finished bottom and
were relegated to the Conference after a dramatic final day show down with Brighton, who would have gone down had United won the game. Despite uncertainty over the future of their Edgar Street ground, The Bulls have consistently challenged for promotion back to The League.
In 2002 the bull's head crest received a face lift with a design suitable for digital reproduction.
After nine years as a non-league club, Hereford returned to the top level in 2006 after a dramatic 3-2 victory over Halifax Town in the Conference play-off final. In their second season back in the Football League, Hereford won promotion to League One. Their revival was short lived and in 2012 they were again relegated to the Conference. In June 2014, beset by debts, they were expelled from the Conference after their new owners declined to put up a £350,000 bond. They were accepted into the Southern Premier League (seventh tier) but still faced a winding up order taken out by their previous manager, Martin Foyle, his assistant, Andy Porter and HMRC.
While the hearings rumbled on, supporters conducted detailed research into the new owner, Tommy Agombar and his associates. Agombar transpired to have convictions for lorry theft and had spent time in prison: furthermore his son, Tommy Jr and a business associate Philip Gambrill were also prohibited from being company directors. Ownership then passed to Alpha Finance and Andrew Lonsdale, a friend and business associate of Agombar, stepped in as a director. A discharged bankrupt whose company had converted Feltham Arena (former home of Feltham FC) into a dump for building rubble, Lonsdale had a spent conviction for dumping 600 lorry loads of building waste on green belt land. A council report found his company had deposited five times more than the permitted waste in Feltham.
After no fewer than nine adjournments, the patience of the High Court was finally exhausted on 19 December 2014 afer Lonsdale failed to appear to substantiate his statement that the club had £1m in the bank to pay off its debts (he claimed he was stuck in traffic). Hereford United was formally wound up and its record expunged from the Southern League.
Relieved supporters groups gathered at Edgar Street to prevent any remaining assets being removed by debtors while the council started proceedings to repossess the ground with a view to securing a new tenant. As was widely expected, a phoenix club was set up by the Hereford United Supporters Trust with support from local businesses and the local authority who granted them the lease on Edgar Street. Hereford FC were admitted to the Midland Football League, the ninth tier in the English pyramid, for the 2015-16 season.

You are welcome to
Contact Me
with corrections and additions.
Sources
(a) Hereford United FC (Images of Sport: Denise Powell & David Edge)
(c) www.kipax.com
(e) HUFC in Action
(f) Anthony Borrett
(g) David King
(h) Alick Milne
(i) Ralph Pomeroy
(j) Richard Webb
(k) Scunthorpe United - A Pictorial History (John Staff 2007)
(l) Simon Monks
(m) Richard Ralph
(n) Keith Ellis
(o) Stephen Giler
(p) Daniel Ferguson
(q) Andy Burton
(r) Christopher Worrall
(s) Nick Catley
(t) Anthony Borrett
(u) Simon "Shakey" Shakeshaft @HerefordUShirts
Crests are the property of Hereford United FC.