Gillingham
Formed 1893
Founder member of Division Three 1920. Failed re-election 1938.
Elected to Division Three (South) 1950
Kit History
1893-1897 a
1901-1902 s
1902-1903 a
1903-1905 a
1905-1910 a s
Also black centred stripes
1912-1913 a s
1913-1914 a
1919-1925 a
Also black centred stripes
1930-1931 a
1932-1937 a
1937-1939 a t
1945-1948 a
1948-1949 a s
1950-1951 a
1951-1952 a
1952-1954 a s
1954-1959 a
1959-1960 a
1960-1961 a
1961-1962 a
1962-1963 a
1963-1964 alt a
1964-1965 v
1965-April 1966 w
March-April 1966 j v w
All-blue strip worn twice in April
1966-1967 a
1968-1969 a
1969-1971 a u
1971-1972 b
Umbro
August 1974 w
Umbro
31 August 1974 q
v Charlton
Umbro
Sept-Oct 1974 w
Umbro
Oct 74-1976 c p q
Umbro
1976-1977 a
Adidas
1980-1981 g x
Osca
1981-1983 a
Umbro
1983-Jan 1984 j
Umbro
Feb-May 1984 j r
Uhlsport
1984-1985 a
New Olympic
1985-1987 a j
New Olympic
1987-1988 a
Scoreline
1988-1990 h y
Ribero
1990-1991 a
Ribero
1991-1992 a f j l
Spall
1992-1993 k
Spall
1993-1994 k
Spall
1994-1995 j
Spall
August 1995 j
Olympic
Sept 1995-1996 a j l
Gills Leisure
1996-1997 j l
Gills Leisure
1997-1998 a l
Gills Leisure
1998-1999 d
Gills Leisure
1999-2000 d
Gills Leisure
2000-2001 e
Own brand
2001-2002 e o
Own brand
2002-2003 e o
Own brand
2003-2004 e
Own brand
2004-2005 b l
Uhlsport
2005-2006 b
Uhlsport
2006-2007 b
Vandanel
2007-2008 b n
Vandanel
2009-2010 b
Vandanel
2010-2011 b
Vandanel
2011-2012 b
Vandanel
2012-2013 b
GFC (Own Brand)
2013-2014 b o
GFC (Own Brand)
2014-2016 b
GFC (Own Brand)
2016-2018 b
GFC (Own Brand)
2018-2019 b
Macron
2019-2021 b
Macron
2021-2022 b
Macron
2022-2023 b
Background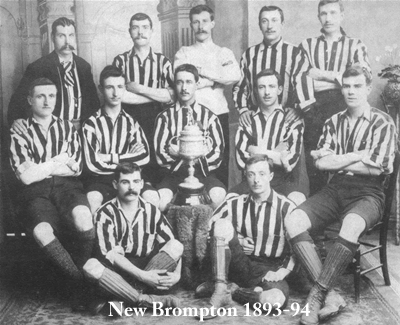 In the late nineteenth century the professional clubs in the north of England had raised standards to such a degree that the older, amateur clubs from the south that had dominated in the 1870s and 1880s were in eclipse. Inspired by the success of a Chatham side called Excelsior FC, a group of enthusiasts decided to establish a professional team in the Medway towns and New Brompton FC came into existence. After acquiring a plot of land on which to build their stadium (Priestfield), New Brompton joined the Southern League and won the Second Division title at the first attempt.
In 1912-13 the club dropped their black and white kit in favour of red
and blue shirts emblazoned with the town coat of arms and the following season changed their name to Gillingham FC. The striped shirts returned after World War One but success in the Southern League continued to
elude the team and in 1920 they finished bottom. They were saved from relegation, however, because the Football League decided to incorporate all the Southern League First Division teams into the new Third Division. In their first season, Gillingham finished bottom and had to apply for re-election. Fans had very little to celebrate over the next few years as the club regularly finished in or near the re-election zone. A change of colours from black and white to plain blue shirts did nothing to improve things and nor did the addition of a crude badge in 1937-38. At the end of the season the club faced re-election for the fifth time in seventeen years
and on this occasion they lost their place to Ipswich Town.
Gillingham re-joined the Southern League and in 1949, they lifted the title. In June 1950 it was decided to extend the two regional Third Divisions of the Football League. Gillingham and Colchester United were elected to the vacant positions and after a 12-
year exile, the Gills were back in the League. The euphoria of the moment was replaced by gloom and for the next ten years they finished dangerously near the re-election zone on six occasions.
A crest was introduced in 1953 consisting of a horse rampant, a motif taken from the Kent coat of arms.
In 1964, the club had their first success when they won the Division Four title and for the following two seasons, came close to promotion to the Second Division. By this stage
crests had become unfashionable and the team took to wearing a simple "GFC" monogram
on their shirts in 1966, simplifying this even further in the 1970s.
Performances then slumped and 1971 brought relegation, to be followed by a return to Division Three in 1974. 1976 did see the welcome return of the Kent horse to the team shirts. This appeared with various embellishments over the next nineteen seasons.
In the Eighties the Gills established themselves as one of the stronger sides in the division, reaching the play-offs in 1987 only to slip back down to Division Four in 1989.
From 1990 the word "Gills" was cleverly incorporated into the horses mane although, as can be see from the example below, this was applied as a cheap plastic heat-transfer that
did not survive repeated washing at all well.
In their centenary season of 1993-94 the club incorporated the old black and white of pre-war days into their blue shirts. They also introduced a brand new crest that incorporated both old and new colours. The motto below the badge read domus clamantium, which translates from the Latin as "the home of the shouting men," a traditional epithet associated with the town of Gillingham.
In 1996 Gillingham won automatic promotion to (Nationwide) Division Two (previously the Third Division) and then in 2000 they reached the dizzy heights of Nationwide Division One (the second tier).
In 2003 the club announced that for the coming season they would wear predominantly
white shirts. This met with such an outcry that it was replaced by the black and blue hooped tops originally intended as a third strip.
From 2007 the Latin motto was dropped from the club crest.
Gillingham slipped down the leagues and in 2008 they were relegated to League Two, the lowest tier of the Football League but bounced back after winning the League two play-
off final in 2009. The popular blue and black striped kit was reinstated the following season but was then dropped.
To mark 100 years as Gillingham FC, the club introduced a special commemorative kit for the 2012-13 season. A replica of the red and blue shirts worn in 1913-14 were introduced to a mixed reception. The modern crest was placed on the right
sleeve (but was not always present on match shirts) while a copy of the original Gillingham coat of arms was embroidered onto the shirt and shorts. The team won the League Two title in their red/blue shirts but supporters voted for a return to plain blue for the following season.
Blue and black stripes were reinstated for the Gill's 125th anniversary in 2018-19 as well as a change strip based on the original New Brompton kit from 1893. This strip was embellished with an anniversary crest which did not feature on the other versions.
After nine seasons in the third tier, Gillingham were relegated to League Two on goal difference at the end of the 2022-23 season.
You are welcome to
Contact Me
with corrections and additions.
Sources
(a) Gillingham FC (Images of Sport - Roger Triggs)
(c) Alick Milne
(d) empics
(e) Rivals Website
(f) Scarborough FC - Images of Sport (Paul Eade 2002)
(g) Ralph Pomeroy
(i) John Attwood
(j) Chris Matterface
(k) The Men Who Made Gillingham Football Club (Roger Triggs) provided by Chris Matterface
(l) David King
(m) Football League Review provided by Simon Monks
(o) Lee Capeling
(p) Keith Ellis
(q) Steven Thomas
(r) Andy Potts
(s) Richard Ralph
(t) Gerald Ruck
(u) @MemorabiliaMal
(w) Gillingham Scrapbook submitted by Simon Hart
(x) Gillingham Scrapbook submitted by Ross North
Crests are the property of Gillingham FC.