Colchester United
Formed 1937
Elected to Division Three (South) 1950. Relegated to the Conference 1990.
Promoted to Division Three 1992
Kit History
1937-1938 i s
1938-1948 s v w
1948-1949 s
1949-1955 a e s
Cold weather kit 1955-57
1955-Oct 1958 i s y z
Possibly worn later
March-May 1959 z
Possibly worn earlier
1959-1963 t y
1963-1964 s y
1964-1965 y
1965-1966 s
1966-1967 c s
1967-1968 s
1968-1969 h s
1969-1970 s
1972-1973 (1) q s
1972-1973 (2) q s
1973-1974 p s
1974-1975 l p t
Umbro
1975-1976 p
Umbro
1976-1979 l p
Adidas
1979-1980 k s x
Adidas
1980-1983 l o p y
Le Coq Sportif
1983-1985 s x y
Le Coq Sportif
1985-1986 l n s y
Umbro
1986-1987 s u y
Olympic
1987-1988 x y
Spall
1988-1989 y
Spall
1989-1990 f s x y
Scoreline
1990-1991 o m x
Ribero
1991-1992 j x
Ribero
1992-1993 e g
Spall
1993-1994 o x
Spall
1994-1995 e o x
Vandanel
1995-1996 o x
Vandanel
1996-1997 a o
Patrick
1997-1998 e s
Patrick
1998-1999 o
Patrick
1999-2000 e
Strike Force
2000-2002 e
Strike Force
2002-2004 e
Admiral
2004-2005 e m o
Admiral
2005-2006 i
Diadora
2006-2007 i
Diadora
2007-2008 i
Puma
2008-2010 i
Puma
2010-2012 i
Puma
2012-2013 i
Puma
2013-2014 i
Puma
2014-2015 i
Puma
2015-2016 i
Macron
2016-2017 j
Macron
2017-2018 j
Macron
2018-2019 j
Macron
2019-2020 j
Macron
2020-2022 j
Macron
2022-2023 j
Background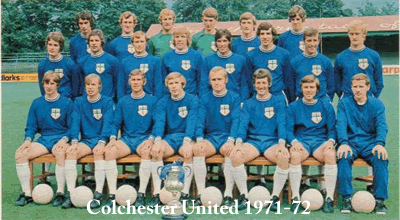 Colchester United were formed in 1937 by the owners of the struggling Colchester Town (formed in 1873) who hoped to continue to run the older club as an amateur team alongside United, who would be professional. This was not permitted by Essex FA rules and Colchester Town folded a few months later.
United played in the same blue and white stripes as Town and took over their Layer Road stadium. As a nickname, they chose "The U's" to distinguish themselves from the older club, who had been known as "The Oystermen." United immediately joined the Southern League, winning the championship in 1939.
The town crest was added to the shirts in 1938-39. This dates back to a royal charter granted by Henry V in 1413. The red represents the blood of Christ; the cross, the living cross of Saint Helena (thought to have been born in Colchester); the three crowns symbolise the three kings from the nativity story and the nails holding the crown represent the nails that held Christ to the cross. That season Colchester reached the fifth round of the FA Cup and two years later they were elected to the Football League in 1950 when the Southern section of the Third Division was expanded.
The Essex club made a decent start but by the middle of the decade they were struggling and were forced to seek re-election in 1954 and 1955. In 1961 and
1965 they were relegated to the Fourth Division and came straight back up but relegation in 1968 was the beginning of a longer spell in the basement. The traditional shirts were changed to the newly fashionable candy stripes: white on blue in 1967 and blue on white in 1968. In 1969, when stripes of any kind were out of favour, the club adopted a strip modelled on that worn by Chelsea, with blue shirts and shorts trimmed in white together with white socks. The crest, which reappeared in 1968, was modified in 1970 and now featured a white background.
In 1971 Colchester enjoyed their moment of national glory by beating League leaders Leeds United 3-2 in a
dramatic FA Cup match.
For the 1972-73 season the management decided to relaunch the club with a new badge (a Roman eagle standard), new nickname (The Eagles) and an all-white kit worn with red boots. The season was a disaster - the manager resigned and Colchester had to apply for re-election. The re-introduction of blue shorts and stockings mid-way through the season failed to stop the rot.
Traditional stripes were reinstated in 1973 (without a crest of any kind) worn with blue shorts. At the end of the season United were finally promoted back to the Third Division. Three years later they were down again only to win promotion yet again the following season.
In 1979 the club adopted the popular striped Adidas shirt of the period, on which the stripes on the body echoed the trademarked three-stripe trim. These shirts were adorned with a simple CUFC cypher.
In 1981 the club was back in the Fourth Division and struggling. Several changes of image were perhaps symptomatic of desperate attempts to revive their fortunes. A new
crest was adopted in 1982 along with plain blue shirts (with the obligatory pinstripes of the period). Sky blue and white stripes appeared in 1985 and the crest was updated all to no avail.
In 1990 Colchester were relegated to the GM Vauxhall Conference and were only saved from extinction in March 1991 when the local borough council bought Layer Road for £1m and leased it back to the football club for a maximum of three years. When the club won the Conference League
and FA Trophy in 1992, the council extended the lease to ten years to comply £100,000 of safety improvements.
Another version of the roman eagle crest was introduced in 1993 and used for two seasons. In 1995 the crest was modified to place the eagle (now in gold) against a shield in Colchester's traditional striped motif. This proved more durable and popular than its predecessors and was used until 2004 when an updated version was introduced.
After several promising campaigns, Colchester were promoted to Nationwide Division Two via the play-offs in 1998 and remained at this level until promotion to The Championship in 2006, the first time they had reached the second tier.
They were relegated back to the third tier in 2008.
After several proposals for developing a new stadium foundered, plans were drawn up during 2000 for a brand new community stadium to be built at Cuckoo Farm. The council, who owned the site, agreed not only to donate the land but also the proceeds of the sale of Layer Road to the project as part of a wider plan to regenerate north Colchester. Work started in June 2007 and the club moved in at the beginning of the 2008-09 season. Although the work was funded by the club, the stadium is owned by the local authority: no bad thing when several clubs have fallen victim to predatory take-overs and then had their ground sold from under them for redevelopment. Offically known as the Colchester Community Stadium a ten-year sponsorship deal led it to be renamed the Weston Homes Community Stadium.
For the 2012-13 season the club announced a "unique" opportunity for local businesses to sponsor the home shirts on a match-by-match basis.
Although striped shirts continued to be favoured, in 2019-20 the team played in blue shirts and shorts with white socks, a tribute to the 1969-72 teams.
You are welcome to
Contact Me
with corrections and additions.
Sources
(a) Football Focus
(c) Doncaster Rovers FC - Images of Sport (Peter Tuffrey)
(d) Football Cards
(e) empics
(f) Scarborough FC - Images of Sport (Paul Eade 2002)
(g) Crewe Alexandra FC (Images of Sport) Harold Finch 2001
(h) Classic Kits
(j) Alliance to Conference (John Harman 2005)
(k) Ralph Pomeroy
(m) Steven Parker
(o) David King
(p) Alick Milne
(q) Dave Blake
(r) Christopher Worrall
(s) Jeff Whitehead, Colchester United historian and author.
(t) Keith Ellis
(u) Steven Thomas
(v) Oleg Baranov
(w) Mark Hughesdon
(y) coludaybyday.co.uk submitted by Anthony Borrett
Details of crests between 1983 and 2004 provided by Jeff Whitehead. Crests are the property of Colchester United FC.