Kit History
Ribero
1992-1993 h j
Fiva
1993-1995 f j
Fiva
1995-1997 j
Icis
1997-1998 j k
Icis
1998-2000 i j
Icis
2000-2002 j
Icis
2002-2004 g j k
Errea
2004-2006 c e j
Errea
2006-2007 b e
Errea
2007-2008 a e
Carbrini Sportswear
2008-2010 a
Carbrini Sportswear
2010-2011 a
Errea
2011-2013 a
Adidas
2013-2014 a
Adidas
2014-2016 a
Adidas
2016-2018 a
Adidas
2018-2020 a
Errea
2020-2022 a
Errea
2022-2023 a
Background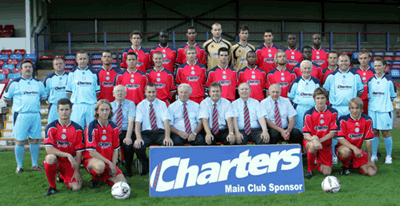 In March 1992 Aldershot FC resigned from the Division Four of the Football League and the club was wound up. A few months later a new club, Aldershot Town FC was formed and admitted to the Third Division of the amateur Isthmian League, five tiers below the old Fourth Division of the Football League. The new club chose as its badge a phoenix rising from the ashes and implicit in the formation of the new Shots was the intention to return to the Football League. Their colours, red and blue, are also those of the former club.
Despite the disadvantage of having only a single registered player in May 1992, a team was recruited that won promotion a year later. The following season Aldershot Town went up again and narrowly missed out on a third successive promotion in 1994-95. In their final match of the 1997-98 seaon, the Shots clinched the Isthmian League First
Division title. In 2000 a reserve team was formed and the first team reached the FA Cup First Round Proper, 7,500 fans turning out to watch their televised match at home against Brighton, the first time that a League club had visited the town since 1992. Brighton won on the day but Aldershot's ambition was clear.
During the summer of 2002 manager Terry Brown
replaced the entire first team with former Conference and Football League players. This side won the Isthmian Premier League and promotion to the Conference. After two seasons in the fifth tier the board decided to adopt full-time professional status in July 2004. At the end of the season Aldershot Town reached the play-offs but suffered a dramatic defeat
in a penalty shoot-out against Carlisle in the semi-final.
After two disappointing seasons, a new management team was appointed in May 2007. Guided by Gary Waddock, the Shots dominated the competition, winning the Conference League Cup and clinching the Championship on 15 April 2008, finishing 15 points clear of the runners up.
The team lasted just five seasons in the Football League, suffering relegation to the Conference in 2013.
You are welcome to
Contact Me
with corrections and additions.
Sources
(b) Stray Shots - part of the Footy Mad network
(d) Alliance to Conference (John Harman 2004)
(e) Fabrizio Taddei (Errea)
(f) Ralph Pomeroy
(g) Richard Swann
(h) Sean Denys
(j) Craig Edmonson - HFK Research Associate
(k) Martin Gooday
Crests are the property of Aldershot Town FC.